2008 NEWS ARCHIVE
2007 NEWS ARCHIVE
We are happy to announce a new feature to our web-site called ASK THE TRAINER. Most people have internet access these days and so we feel that it is a good forum for a question and answer exercise. You may ask Reade whatever question you would like, and we will print the questions and answers for all to read. (unless you request a confidential response). The purpose of this is to permit an open forum for understanding the training processes. So if there is something that you always wanted to know, send your question to Reade using the CONTACT portion of this web-site.
WOODBINE MEET - APRIL TO DECEMBER 2016
There is no better time than NOW to send horses to train at Woodbine. The training facility is exceptional! Woodbine has a one mile dirt training track, a 7/8 turf training track, a 3/8 sand ring and a European Style jogging path.The main track surface for racing and training is TAPETA and was installed at the end of 2015 season. The 1 1/2 mile E.P. Taylor Turf course is second to none in North America.
MSW Open Races run for $56,000
More than 50 Non-Restricted Stakes Races and 40 Graded Stakes Races offered this season
Up to 200 Turf Races are to be carded this season
I am looking for horses this season to take advantage of small fields and less competitive fields than may be found in New York or Kentucky
I do not have divisions around the country and this permits me to see the horses train 95% of the time, allowing for travel to sales and individual out of town races.
I have trained many Canadian Champions and won more than 110 Stakes Races.
Maybe the next one will be your horse. Please call me at (416) 518-1234 or email readebaker@me.com
JOIN US AT WOODBINE IN 2015 -
Please contact Reade regarding training your horses at Woodbine in 2015. The Woodbine Purses continue to impress. The facility is outstanding, and Reade is accepting new horses.
Contact Reade email: readebaker@me.com Cell: (416) 518-1234 ON, or (561) 702-3024 FL
LIKE US ON FACEBOOK - We are now on Facebook!! Please LIKE US and ask your friends to LIKE US on facebook/ReadeBakerRacingStableInc.
12/31/2013 - HAPPY NEW YEAR - 2014 IS THE YEAR OF THE HORSE.
2013 Was another good year with 310 Starts 61 Wins, $3,363,552 in purse earnings, 13 Stakes Wins and 20% Win Percentage. Reade has room for more horses in 2014 and is interested in speaking to you about training your horses. Reade is also available to purchase on your behalf, and he attends all major sales. Here is how to get in touch with Reade directly. Cell (Florida) (561) 702-3024. Email: readebaker@me.com
Wishing everyone good health in 2014 and Fast Horses!
05/18/2013 - BEAR'S GEM SHINES IN THE BALLADE STAKES.
Bear Stable's Bear's Gem wins her 5th race in a row today in the Ballade Stakes under Patrick Husbands. Congratulations to Danny Dion's Bear Stables Ltd. Bear's Gem was bred by Richard Day in Ontario. She is by Philanthropist out of Simply Precious. YAY!!!
05/11/2013 - DON CAVALLO IN ACTION SUNDAY - It will be a small field for the Eclipse Stakes on Sunday and the competition will be tough. After a disappointing race against the same horses on opening weekend in April, Don Cavallo will be heading to the post this start with Blinkers added.
05/10/2013 - RICK MAH & JUS LUK STABLES PARTNER ON TWO YEAR OLD FILLY- While at the OBS Sale in Ocala, Reade purchased hip 333 for the partnership of Rick Mah, Shannon and Roger Fortier's Jus Luk Stables, and RBRS Inc. The filly went to Kentucky for pre-race training. She is by Fairbanks out of Evening Princess, by Monarcos. We welcome suggestions for a name. Unfortunately, Alaska is already taken. So let us know what you think would be a great name for her.
05/02/2013 GOODBYE MINNIE - It is with great sadness that we said goodbye to Minnie, our 15 1/2 year old yorkie today. She was our first yorkie and she gave us much joy and love. Minnie loved all animals and was the kindest little girl with children and adults alike. She will be truley missed. Rest in peace Minnie, say hi to Ali for us, love Janis & Reade.
04/24/2013 - SOLID EFFORT BY SOLID APPEAL AT KEENELAND - Congratulations to Jim and Susan Hill on their victory at Keeneland. Solid Appeal won the 8th race. It was an allowance race and Solid Appeal under a very patient ride by Joel Rosario won by 2 1/2 lengths. Jim and Susan Hill, looked good in the winners circle. Earlier in the day their three year old filly Big Brown Brookski ran 5th in her first lifetime start in the 3rd race. The meet closes this weekend and horses will head back to Woodbine.
In action this weekend at Woodbine, our promising three year old filly named Glamorously owned by Stronach Stables will run in the 2nd race, a maiden allowance event. She made her first start at Gulfstream Park and handled everything so professionally. Glamorously is by Ghostzapper out of Classy Credentials. She is a Canadian-Bred, and we are hopeful that she will be a contender for the Oaks. The Bear Stables's stakes winner Bear Tough Tiger and stakes placed Bear No Joke, will duke it out against Essence Hit Man in the Jacque Cartier stakes on Saturday.
04/14/2013 OPENING DAY AT WOODBINE THIS SATURDAY - Gulfstream is over, Keeneland is in full swing, and Woodbine live thoroughbred racing opens on April 20th. Horses are breezing and we welcome the new season. Some of the most fun we have is when our competitors face rivals in stakes races. This spring, the stakes lineup is as follows. Jacque Cartier Stakes, Saturday April 27th - Bear No Joke and Bear Tough Tiger. Queenston Stakes, Saturday May 11th - Silent Admirer. Eclipse Stakes, Sunday May 12th - Don Cavallo. Ballade Stakes, Saturday May 18th - Bear's Gem. New Providence Stakes, Monday May 20th - Bear's Peak. Nassau Stakes Sunday May 25th - Solid Appeal.
03/25/2013 - TWO YEAR OLD CANADIAN-BRED COLT SELLS AT FT-FLORIDA FOR $400,000
Canadian-Bred by Roman Ruler out of an unraced Alydeed mare named Fancy Deed was sold at the Fasig Tipton Florida two year olds in training sale today. The hip number 120 was purchased for $400,000. The sale was strong and the sales topper was a filly by A.P Indy and was purchased for 1.1 million.
We are setup with stalls at Keeneland and the meet opens there on April 2nd. Two year olds are in training in Kentucky and the older horses are distributed between Palm Meadows and Woodbine.
Glamorously by Ghostzapper ran 3rd at Gulfstream Park on Saturday in her debut. She is a three year old Canadian bred owned by Stronach Stables. SHe earned a 70 beyer speed rating for her effort.
03/14/2013 - WOODBINE SIGNS DEAL WITH ONTARIO GOVERNMENT - We are excited that racing at Woodbine is alive and well!! A new deal struck between WEG and the Ontario Government means that our purses will remain high, race dates are consistant with last year and horsemen are back to work training horses for Opening Day on April 20th.
We shipped horses into Woodbine on March 1st! So forget the politics for now and take a look at the upcoming sales of two year olds and or contact Reade to discuss training your horses at Woobine For 2013. The Fasig-Tipton Florida sale in on March 25th at Palm Meadows. The OBS sale in Ocala is on April 22nd.
We have a NEW ALL INCLUSIVE DAY RATE for anyone interested in a day rate which includes training, blacksmith, and vet.
Email Reade at: readebaker@me.com or call him at (561) 702-3024.
---
02/13/2013 - DON CAVALLO BREEZES - A very strong Don Cavallo breezed 3/4 in 1:12.4 under Emma Wilson at Palm Meadows this morning. Woodbine stable area opens in two weeks.
---
02/08/13 BEAR'S SPIRIT WINS AT GULFSTREAM PARK -Marking the first win of the season for the stable, Bear's Spirit captured the 6th race with perfect timing.
01/30/2013 - CANADIAN CHAMPION BIOFUEL HAS COLT BY TAPIT - What great news from Airdrie Stud Farm in Kentucky. Canadian champion Biofuel gave birth to a Tapit colt today. As soon as we get a photo we will post it. Congratulations to the team at Airdrie.
01/25/2013 - HAPPY DAYS - WOODBINE ANNOUNCES OPENING DAY APRIL 20, 2013 - The Bear horses (Bear No Joke, Bear Tough Tiger, and Arctic Bear) are happily heading to the jogging path afiter learning that Woodbine will open on April 20, 2013.
Bear No Joke - Bear Tough Tiger - Arctic Bear(inside)
After many months of uncertainty, it was announced yesterday that Woodbine and the Ontario Government (OGL) have come to a two year agreement. The Woodbine stable area will open March 1st. Heads up to all grooms, horse walkers and exercise riders! Also note that we have mailed out T-4's to all staff for 2012 so please look in your mail for that! Pictured below is Bear Tough Tiger getting tough with Martine Pare.
Bear Tough Tiger - Palm Meadows 01/25/2013
---
01/18/2013 - HAPPY 15TH BIRTHDAY MINNIE
---
12/24/2012 TRAINER STATS 2012- The Trainer stats indicate another good season at the races for Reade. Wins: 65 Purse Earnings: $3,782,603 Win Average: 18%
We are currently in Florida training horses at Palm Meadows. Racing at Gulfstream Park. The contact numbers are as follows. Reade Cell: (561) 702-3024 Janis Cell: (561) 573-2015
---
11/26/2012 - BEAR TOUGH TIGER WINS KENNEDY ROAD STAKES - Moving up to win his first graded stakes race, Bear Tough Tiger denied stable mate, Bear No Joke the title. It was one of the most exciting finishes I have seen. Emma Wilson rode 25/1 shot Bear No Joke. It was a neck separating the two at the finish line, with Bear Tough Tiger scoring in a quick time of 1:08.3. Owned by the prominant Bear Stables Ltd., Bear Tough Tiger earned a career high of 97 beyer speed figure. Jockey Justin Stein was very confident going into the race and rode Bear Tough Tiger off the blistering fast fractions of :21 for the first quarter, and :44 for the half set by race favourite Essence Hit Man. This victory registered a career 102 Stakes Wins for trainer Reade Baker!
Bear Tough Tiger winning the Kennedy Road with Bear No Joke on the inside, runs second.
The Woodbine live thoroughbred season is almost over with the final racing day being Sunday December 16th. We still have a full barn of horses at Woodbine and plan to race right up to the last day. We are sending some horses to Palm Meadows Training Centre on Tuesday and we will have horses ready to race at Gulfstream Park this winter.
Tu Endie Wei is back home at Airdrie Stud in Midway Kentucky. She will be bred in 2013 and hopefully produce another generation of champions. We will miss her and look forward to seeing some of her babies.
---
10/15/2012 - MARATHON FINISHER! - Earning bragging rights, I must say it was quite exhilerating to complete the Scotiabank Toronto Waterfront Marathon yesterday. Shown in the photo below, I wore my medal to the races at Woodbine and flashed it at everyone who would listen to my marathon story. It was my first marathon! I ran the 42.2 Kilometers in 4 hours and 10 minutes. Official time 4:10.34. (I will get some horse racing news on the site soon.)
Lisa Jager, Katja Ulm Mueller, Me (with the medal, souvenir shirt, and Big smile), and Jennifer Morrison.
---
09/22/2012 - BEAR'S PEAK WINS OVERSKATE - It is with great pleasure that we thank Bear Stables for the victory in the Overskate Stakes win today. After loosing our darling yorkie Ali, Bear's Peak went out to capture the Overskate Stakes in her honour. I say that because only an hour before the race, our neighbour came by the house to offer condolences over our loss of Ali. She said "go win the race for Ali" and sure enough, Bear' Peak won!!!
In addition, Danny and Gwen have been such good supporters of us for years. They are also yorkie owners. Thank you Gwen and Danny for your kind thoughts for Ali, and we are happy to celebrate Bear's Peak!!
09/17/12 - IT IS WITH A HEAVY HEART THAT WE REMEMBER OUR BELOVED DARLING ALI. - The most unfortunate thing has happened, Ali has passed at about 6:15 today after succumbing to complications of encephalitis. She gave us 10 1/2 years of laughter and joy, and she will be gravely missed by Reade, Janis and Minnie. It is our first experience at loosing a pet and there is not much to be said. She will be missed greatly. Our thanks and love go to Ali for the joy she gave us and to Dr. Greg Kilburn and the staff at Toronto Veterinary Emergency Hospital for their kind care. Thanks also to our family and friends who share in our love of Ali.
Ali Baker December 28, 2001 - September 17, 2012 - Happy to have had you in our life. Love always.
09/16/12 HUNTERS BAY SECOND IN GRADE ONE WOODBINE MILE TURF - a perfect trip but Wise Dan was just the best horse today on the turf. Hunters Bay ran an impressive hard fought second, and we were proud of his effort and determination. Hunters Bay earned a 100 beyer speed rating for his effort. It is off to Breeders' Cup at Santa Anita for him.
09/14/12 - HUNTERS BAY TRIES TURF IN THE WOODBINE MILE - Galloping over the E P Taylor turf at Woodbine this morning under regular exercise rider Martine Pare. Hunters Bay will make his turf debut in the Grade One Mile on Sunday.
08/01/2012 - AT THE SPA - Tu Endie Wei and Hunters Bay arrived in Saratoga Springs on Monday to prepare for the races on Saturday August 4th. Hunters Bay drew post number 2 for the Whitney Stakes. Below, Tu Endie Wei schooled to the paddock in the 2nd race and the very well behaved Hunters Bay schooled to the paddock in the 6th race today. While in the paddock, a hawk fly into a nearby tree screeching for the mate to join in the feast. He/She caught a mouse. Nature! Saratoga, the August place to be!
Tu Endie Wei with Martine Pare and Melanie Minshull
Hunters Bay with rider Martine Pare
Hawks ready for lunch at the Spa
---
07/30/2012 - RIVER RUSH WINS ALLOWANCE RACE - CHANTAL SUTHERLAND CAPTURES THE WONDER WHERE FOR HER BROTHER. - River Rush returned to his Plate Trial form on Sunday winning an allowance race, his first race since a disappointing finish in the Queens' Plate on June 24th.
Chantal Sutherland poses with the whip she used on Wonder Where Stakes winner Awesome Fire.
Chantal rode the filly for her brother Hugh. Family and friends were at Woodbine to celebrate the win for Chantal including her husband. Married in March this year, Chantal was beaming after the win. The only chill to the win was the fact that the Ontario Racing Stewards fined Chantal for a whipping offence during the race. The rules regarding proper use of the whip in Ontario require jockies to whip no more than 3 times, wait for the horse to respond before whipping again. Would the filly have won the race if Chantal did not get "aggressive" with her use of the whip? A $3,000.00 fine was handed out to Chantal. Her share of earnings for the win ( 10% of the owner's purse) .....$15,000.00. The whip will be signed by Chantal and graciously donated to the silent auction for the Horse Racing Hall of Fame Induction ceramony to be held on August 18th. Thanks Chantal!
07/29/2012 - WOW - Long time since the last update. Alot has been happening. The 2012 London Olympics have opened, Hunters Bay won the Dominion Day Stakes race and we are getting ready to go to Saratoga with Tu Endie Wei and Hunters Bay. Fortunately the races each one will run in are carded for the same day, Saturday August 4th. Hunters Bay will run in the Grade 1 Whitney Invitational Handicap going 1 1/8 on the dirt. Tu Endie Wei will run in the Grade 1 Prioress Stakes going 6 furlongs on the dirt. Big Time Stakes at the Spa. Watch for more updates, I promise to post more news and photos.
06/19/2012 - ALL SET FOR SUNDAY'S QUEEN'S PLATE STAKES - Macho Whiskey and Plate Trial winner, River Rush worked 5/8 over the training track on Sunday June 17th. It was their final prep before the big race. Emma Wilson was very happy with River Rush as was Jim McAleney. Reade was very pleased with the way the two charges breezed. River Rush breezed with stable mate City Wolf, and Macho Whiskey breezed on his own. The draw for the post positions for the Plate takes place on Thursday at Woodbine in the paddock. It should be a festive event, with special guest drawmaster, olympic gold medal winning swimmer Mark Tewksbury expected to attend. Ladies get your hats out of the closet and lets have a great day!
Macho Whiskey breezing Sunday June 17th under Emma Wilson
06/04/2012 - RIVER RUSH SETS A NEW TRACK RECORD IN THE QUEEN'S PLATE TRIAL YESTERDAY AND HUNTERS BAY TAKES THE ECLIPSE STAKES LAST SUNDAY - In what started out as a gloomy overcast day yesterday, River Rush certainly turned on the lights for the team in winning the Plate Trial in 1:48.97 for the 1 1\18 distance. He won under jockey Jim McAleney, as regular rider Emma Wilson already had a call in the race. River Rush is by Orientate out of Sweet Tart, by Lemon Drop Kid. The trip took River Rush out of the 11th post, Jim directed River Rush to the rail as not to go too wide on the turn. He was covered up nicely, trailing the field until the top of the stretch when Jim urged River Rush up the rail. After brushing the rail, he straightened out and continued home winning by 5 1\4 lengths. River Rush is a 3year old colt, bred and owned by Stronach Stables.
05/23/2012 - MACHO WHISKEY BREEZES 5/8 - Emma Wilson takes Macho Whiskey through his first breeze since winning his maiden race. He breezed 5/8 in 1:00 and looks great. The two year old filly out of Gold Strike is in the barn. Her name is Unostrike. She is by Macho Uno, bred and owned by Harlequin Ranch. A real looker, she is a chestnut with a long white blaze, and white socks. I will post a photo of her soon. Jim and Susan Hill's three year old colt by Bluegrass Cat named Go Blue or Go Home won his first start on Monday in the 10th race. It was a very impressive win on the turf, covering 7 furlongs in 1:21.74. His mother, Go Baby Go (IRE), was a stakes winner on the turf. The Bear Stable's two year olds are getting ready to race. Below is Emma on Bear's Furr, following a breeze from the gate in :36.3. Thumbs Up!!!
Hunters Bay is going to run this weekend in the Eclipse Stakes.
Bear's Furr is a two year old by Langfuhr out of Latte. Emma hams it up.
Macho Whiskey and Emma Wilson
MAY 10, 2010 - Macho Whiskey Wins Maiden Allowance - The road to the Queen's Plate just got a little more traffic as Harlequin Ranches' gelding Macho Whiskey wins his maiden allowance race with an 84 beyer speed rating. This gorgeous dark bay gelding is by Macho Uno out of Harlequin's stakes winning mare Whiskey and Low. Not only does this 3 year old gelding make an impressive paddock appearance, he can run!
Champion Tu Endie Wei runs in the 1 1/16 Selene Stakes race on Sunday. On Saturday, Gospel Girl runs in the 3rd race, Keep Singing is in the 4th race, Fatal Bullet runs in the 6th race and Bear No Joke runs in the 9th race. We see racing action on Friday with Celidonia in the 2nd, speedy Johannes in the 4th and first timer Bear's Gem in the 8th race.
04/30/12 - HAPPY BIRTHDAY READE!!! As promised last update, we had another great weekend at the races. Danny Dion of the Bear Stables got plenty of exercise making his way to the winners circle to be photographed with Van Lew in a $70,000.00 allowance race and then again with Bear's Ruckus in a $50,000.00 Ontario Sired allowance race. That was Friday. On Saturday Bear Mademoiselle ran 2nd for ..you know who, and Hunters Bay won his 2012 debut for Stronach Stables, earning a 91 beyer. Sunday we ran 2nd twice. The impressive runner was a 3 year old colt by Orientate named River Rush. He was closing strong going 1 1/16. Bred and owned by the Stronach Stable, River Rush was foaled in Ontario and is a Queen's Plate hopeful at this point. Plenty of action in the weeks to come. It should warm up a little next week and I'll get some pictures of the charges up on the site as well.
04/15/2012 - TU ENDIE WEI GOES WEI WEI WEI, ALL THE WAY HOME IN THE STAR SHOOT The day started off with the Bear Stables' champion Fatal Bullet winning his 2012 debut under Emma Wilson with an 85 beyer speed rating. Not to be "out done," Brereton Jone's two year old champion of 2011 Tu Endie Wei ran first in the Star Shoot Stakes under jockey Jim McAleney. She earned an 87 beyer speed rating, winning by 5 1/2 lengths. Bear Stables Ltd also owns Speyside who ran 2nd by a nose, in the Ontario Sire allowance race. Stronach Stable's first time starter named Gospel Girl ran a very forward 2nd in her maiden allowance event to cap off a very good "day at the office." Reade Baker currently stands on the top of the trainer list at Woodbine with 5 wins out of 12 starts. Plenty more action next weekend, so stay tuned.
04/09/12 - SIR LOWRY'S PASS, JOHANNES, AND BEAR TOUGH TIGER WIN! - It was Opening Day and our first start of the Woodbine live racing season. Sir Lowry's Pass made his debut and scored the first victory of the year for the team. Owned by Shannon and Roger Fortier's Jus Luk Stable, this light grey gelding ran 5/8 in :58.4 under Emma Wilson. He is by Survivalist out of Alacrity. The race was a maiden allowance, for Ontario Sires.
Yesterday we ran three horses and two of them were shining stars! The three year old filly named Johannes won in a most impressive way. This filly has a future! With the guidance of jockey Jim McAleney, she won her 5/8 maiden allowance debut by 11 lengths under a hand ride. The race went in :56.8. The best time of the day. She earned a 96 beyer speed rating. Owned by Harlequin Ranches, Johannes is by Johannesburg out of Born Perfect, by Mr. Prospector. Bred by Padua Stables, Johannes was foaled April 25, 2009 in Kentucky. She was purchased for $195,000 at OBS, April 2011. The final start of the day yesterday was Bear Tough Tiger in the 8th race. With owner Danny Dion of the Bear Stables in attendance, Bear Tough Tiger did not disappoint. Jockey Quincy Welch took his time in getting the chestnut gelding to relax early then made his way clear of the field, and held on for a convincing victory. A funny thing about the win, Bear Tough Tiger won our last race of 2011 at Woodbine for Bear Stables and now he has won the first race of 2012 for Bear Stables.
It was great to see two of our favourite people at the races yesterday, Simon Bower of Lucien restaurant on Wellington, and Rodney Clark of Rodney's Oyster House on King Street in Toronto, were at Woodbine and stopped by for a visit. We'll see you at your fabulous restaurants soon!
---
03/20/2012 - TU ENDIE WEI BREEZES 5/8 - Tu Endie Wei is shown breezing 5/8 at Palm Meadows this morning. She is scheduled to leave for Woodbine on Sunday along with Fatal Bullet and Bear Tough Tiger. Counting down the days until opening day at Woodbine. Seventeen days!
We are interested in hearing from any experienced exercise riders to fill a position that has come open for Woodbine. Sheena Ryan (working Tu Endie Wei) will be heading to Northlands Park to apprentice as a jockey. We wish her great success!
Tu Endie Wei 03/20/12
02/29/2012 - HAPPY LEAP YEAR! - Canadian Champion Fatal Bullet breezed 3/8 this morning at Palm Meadows. He is getting ready for opening weekend at Woodbine.
02/23/12 - TODAY AT PALM MEADOWS - Photos, Bear Tough Tiger, Bear It's Time, Tu Endie Wei, Zatopek
Bear Tough Tiger
Bear It's Time
Tu Endie Wei
Zatopek
02/18/2012 - BENITA BLUE AND GOSPEL GIRL BREEZE- Back at Palm Meadows, Benital Blue and Gospel Girl breeze. Celidonia ran third yesterday, good effort. Hunter's Bay is ready to run. He breezed 5/8 in 1:00 flat. He is being pointed towards a race in March 3rd at Gulfstream Park.
Benita Blue (outside) Gospel Girl (rail).
Hunters Bay - Emma Wilson
---
02/13/12 - HORSES BACK AT WOODBINE TRAINING FOR OPENING DAY - Snow greeted the horses that arrived at Woodbine on Saturday February 11th. Leroy was there along with the rest of our team. The horses have spent the last two months on farms in Ontario just being horses. Opening day at Woodbine for the 2012 season is Friday April 6th. In the meantime, Celidonia is entered in the 10th race at Gulfstream Park, on Friday Feb. 17th, going 1 mile on the turf. Emma Jane Wilson has the mount. Happy Birthday to JM.
2011 - SOVEREIGN AWARDS, NOMINATIONS ANNOUNCED - The nominations for the 2011 Sovereign Awards have been announced and we are proud to say that we have representation in four of the categories. Reade was nominated in the Outstanding Trainer category, Janis Maine was nominated for a photograph submission, Dany Dion's Bear Stables Ltd., was nominated in the Leading Owner category, and Brereton Jone's two year old multiple stakes winning filly, Tu Endie Wei was nominated for the Two Year Old Filly Championship. We thank all of the voters and look forward to the Soverign Awards presentation on April 5th. For ticket information, please contact the Jockey Club of Canada.
HAPPY BIRTHDAY MINNIE - Our 14 year old yorkie named Minnie, is enjoying her "Birthday Cake"
01/21/2012 - HUNTERS BAY BREEZES - Looking as handsome and strong as ever, Hunters Bay breezed 5/8 this morning, at Palm Meadows.
01/19/2012 - HAPPY NEW YEAR - Fatal Bullet looking very happy to be in Florida at the Palm Meadows Training Centre. He arrived January 6th along with Bear Tough Tiger and Tu Endie Wei. Woodbine opens February 10th for training, Leroy will be there to get things started. We ask all employees, to look for their T-4 slips which were mailed out on Monday January 16th.
Fatal Bullet Bear Tough Tiger
---
12/25/11- MERRY CHRISTMAS

A Christmas Fable

THE OLD GRAY HORSE sidled up to the pasture fence with little dancing steps. The place seemed familiar, yet somehow strange. The grass was greener than any grass he had ever seen, and when he looked closely at the white paddock gate it had a kind of pearly sheen. And there was another funny thing. A big, black cloud hovered just inside the gate. The cloud wasn't up in the sky where it properly belonged. It was like a great puff of black smoke rising from the grass.

Suddenly the cloud dissolved and revealed a horse. He was a small chestnut with a blunt head and one white stocking and brownish hairs in his tail and mane. The gray horse thought he had a kind of old timey look to him.

"Hello, old gray horse," the chestnut from the black cloud said.

"Hey, that's a real good trick!" the gray horse exclaimed. "Where'd you learn it?"

The chestnut disappeared into the cloud again, but emerged immediately.

"Learned it the day I was born," he replied, with a whinny that sounded like a chuckle. "You see I was born on April Fool's Day and there was a total eclipse of the sun. So they named me Eclipse. I was always playing tricks on people, too. Used to kick my grooms and try to throw my riders, and I bit the auctioneer that sold me."

"My name is…." The old gray horse started to say politely, but the tricky chestnut ducked in and out of his cloud and interrupted rudely.

"Native Dancer," he said. I ought to know you. I'm your great-great-great-great-great---I always lose count of the 'greats' ---but anyway you're a descendant of mine. Almost everybody is, in fact. The thoroughbreds, that is."

"Are you the gate keeper?" Native Dancer asked.

"Mostly," Eclipse replied. "I'm on duty whenever one of my descendants is coming up. That's mostly, so far as thoroughbreds go. Old Matchem has a few left and he takes over when one's due. And poor old Herod, he`s posted here occasionally, but there`s not many of his male line that aren`t here already."

"WHAT IS this place?" Native Dancer asked.

"I guess I am kind of lost."

"The Green Place," Eclipse replied. "That's what it's called. The Green Place. Most of the horses that get lost come here. We have to send some back, of course."

"Why?" The Dancer asked.

"Because they don't belong here, that's why. Long before I came up there was this fellow Bayard, for instance. He was a devil-horse. Belonged to an old necromancer named Malagigi and he did the devil's work. Helped that villain Aymon of Dordogne to triumph over Charlemagne, they say. And a wizard named Michael Scott had a big black beast who used to stomp his feet and set all the bells of Paris ringing. He even caused the towers of the palace to fall down one day.

"The Big Guy doesn't want that kind here. But we have Jesse James's horse, and Dick Turpin's, too. The Big Guy says they did nothing wrong themselves. They were just faithful to their masters, and The Big Guy thinks that's a virtue."

"WHO'S The Big Guy?" Native Dancer asked.

"You'll find out!" Eclipse answered airily. He lowered his muzzle and pushed the gate open. "You might as well come in. You understand you're on probation, though. The Big Guy makes his decisions about new arrivals every Christmas. Let's see, it's November 16, the way you figure things down there. So you won't have long to wait, anyway."

I'll bet The Big Guy is Man o' War." Native Dancer said as he moved inside the gate and gazed over the emerald-green expanses that seemed to stretch into infinity.

Eclipse snorted. "Don't get smart, boy," he said. Then he added maliciously, "You'd lose your bet, too. The way a lot of people lost their bets on you at Churchill Downs one day."

Native Dancer felt hurt, for his ancestor had touched a raw nerve. His lip trembled a bit as he replied defensively, "That Derby was the only race I ever lost."

"I never lost even one race," Eclipse said unsympathetically. "So don't get smart up here. The Big Guy doesn't want any smart-alecks in the Green Place. Remember that."

Native Dancer was a sensitive sort. He felt as if his eyes were teary and he hoped Eclipse didn't notice. "I won 21 out of 22, and Man o' War only won 20 out of 21," he declared. "And my son Kauai King won the Kentucky Derby."

"My sons won three Derbies at Epsom," Eclipse said. "Young Eclipse took the second running and Saltram won the fourth and Sergeant won the fifth, and I'd have won the bloomin' race myself, only they didn't run it in my time. So quit bragging. Somebody's coming and they might overhear you and tell The Big Guy, and that would be a mark against you."

A BAY HORSE who seemed even more old-timey than Eclipse ambled up. "Is it my time now?" he asked eagerly.

"Not yet, Herod," Eclipse answered in a kindly fashion. "Old Fig's on duty now. One of his is on the way."

"Who's Old Fig?" Native Dancer asked. "I never heard of that one."

"There's a lot of things you never heard of, boy," Eclipse replied. "His real name is Figure, but down there they called him Justin Morgan, after his owner. Here he is now."

A very small, dark bay horse with a round barrel, tiny feet and furry fetlocks came bustling up to the gate. "Okay, okay, I'll take over," he said busily. "Where is that boy? Can't stand tardiness. I've got things to do. A load to pull, a field to plough, a race to run, a trot to trot. No time to waste. Where is that boy?"

IN THE WEEKS that followed, The Dancer met hundreds, maybe thousands of horses. Some of them famous and some of them were his ancestors and a few of them were his own sons and daughters.

He met a snorting white stallion named Bucephalus who had been approved for the Green Place by The Big Guy even though it was rumoured by some that he was cursed by the deadly sin of pride because he carried a conqueror named Alexander. He met another gray horse who limped because he had stepped on a rusty nail back home just before he became lost forever. His name was Traveller, and he was a war-horse, too, in the days when a man named General Lee had owned him. There were other soldier steeds, two of them descendants of the bustling little stallion they called Old Fig up here. One was Phi Sheridan's black Rienzi and the other a horse called both Fancy and Little Sorrel who had been the mount of Stonewall Jackson.

Native Dancer found Man o' War an amiable sort despite his proud, aristocratic bearing, and he grew especially fond of a bony old fellow name Exterminator, who patiently answered all but one of his questions. He asked the question of everyone: "Who is The Big Guy? And the answer was always the same: "Wait till Christmas."

He met Messenger and Hambletonian and Hindoo. He met horses that had dared the dreadful fences of the Grand National. He met a horse who stared blindly into the emerald darkness. His name was Lexington. He met horses who had pulled circus wagons and horses who had pulled brewers' trucks and horses who had drawn man's ploughs over the fields of earth, and he met others who had been the mounts of kings and captains.

Always the answer to his question was the same: Wait till Christmas."

ECLIPSE fussed over him and kept a watchful eye on his behaviour and said he neighed too much and asked too many questions. Eclipse could not stand the thought of The Big Guy banishing one of his descendants from the Green Place.

And Native Dancer did not wish to leave. He doubted he could ever find his way to Maryland again if The Big Guy disapproved of him. And the Green Place was very pleasant in all respects. The grass was lush and he met so many interesting horses. Back home he had sometimes been troubled by nightmares, for a Dark Star haunted his dreams, but now he slept peacefully and rarely remembered the Derby he had lost.

He became nervous, though, as the weeks went by and the stars grew brighter.

AND FINALLY IT WAS TIME.

On a night when the skies burned with starlight all the horses gathered near as possible to a little hillock of the vast paddock. There were hundreds, thousands, maybe millions of them, a murmuring and expectant throng that seemed to stretch for miles over the emerald grass beneath the diamonds in the heavens.

Eclipse was very tense. He hovered over Native Dancer, whispering, "Look your best now. Be quiet and humble. The Big Guy will be here any minute.

" Suddenly the vast throng was as silent as the stars themselves. The Big Guy stood on the hillock in a blinding blaze of starlight, and Native Dancer could barely contain himself. He chocked back a whinny of derision and whispered to Eclipse, "Is he the Big Guy? He's so little! And he's not even a horse! What did he ever do?"

Eclipse whispered, "He's a donkey. He carried a woman heavy with child to a small town on another night when the stars were bright."

"It was a long, long time ago."

This story, written by the late David Alexander, was first published in The Thoroughbred Record issue of December 23, 1967.

Merry Christmas!

Reade and Janis
---
12/18/11 - GREETINGS FROM PALM MEADOWS. - We had a great finish to the end of the Woodbine meet. Total wins at Woodbine was 61. We scored 10 stakes wins. Tu Endie Wei won her third start at Woodbine, and third Stakes victory, securing top votes for champion 2 year old filly in Canada. The final Woodbine win, came on the last day of the meet with Bear Tough Tiger winning his 3rd allowance race this season. This trip, under the guidance of Chantal Sutherland who came into Woodbine for the finale.
It is a beautiful morning in southern Florida. The sun is shining after a couple of rainy overcast days. Zatopek, and his buddy Hunters Bay are here, so is Zampano, City Wolf and seven more, for the Stronach Stables. Tu Endie Wei is busy being fabulous, at home in Kentucky. She is scheduled to join us at Palm Meadows in January. Bear Tough Tiger, and Fatal Bullet are also scheduled to join us in January. It is just one week until Christmas.....In the meantime, Zatopek is shown under rider, Albert Garcia pulling up after his morning gallop.
FOR SALE - STAKES WINNING BROODMARE PROSPECT - SOUND OF THUNDER - $40,000.00
Sound of Thunder is a Stakes Winner by Stephen Got Even, out of Flashy Thunder by Thunder Gulch. As you can see she is a good looking correct filly out of a good family. Contact Reade at 416 518-1234 or email if you are interested in purchasing her.
Her two year old half brother by Aragorn, named Canadian Flag. He has placed in a Maiden Allowance race, his first time on Woodbine's polytrack.
ROYAL WINTER FAIR 2011 - Here are some photos from the poultry exhibit at the Royal. Many Champions,and the Grand Champion Bantam of the show. Go to the POULTRY tab to view more photos.
Black Rosecomb Cockerel - Grand Champion Bantam
Single Comb White Leghorn Pullet - Best of Breed
---
11/05/11- THREE TIMES LUCKY - It is Breeders'Cup Day of racing and we are celebrating three wins in three starts so far in November. Brereton Jones is the owner and breeder of two winners, Good Attitude, and War Fleet. The third winner was scored by Curraghmore Farm's Tejano Run colt named Khulna.
10/26/11 - RACING UPDATE - Tu Endie Wei came out of her race in good shape. Although dissapointed with her result, we are happy that she is well and will race again before the end of the year. Two year olds are more prominant now and this weekend we have Jus Luk Stables' filly named Point of Emminence entered in the $250,000 Princess Elizabeth Stakes at Woodbine on Saturday October 29th.
10/05/11 - BEAR IT'S TIME WINS THE CLASSY AND SMART STAKES, TU ENDIW WEI IN KEENELAND FOR DARLEY'S ALCIBIADES STAKES. - Multiple stakes winner Bear It's Time managed to strike again with Emma Jane Wilson in the irons. It was a fast time for the 1 1/16, crossing the finish line in 1:44.
Another multiple stakes winner, Tu Endie Wei is at Keeneland looking to score some graded stakes earnings in the $400,000 Darley Alcibiades Stakes for 2 year old fillies on Friday Oct. 7th. She arrived on Sunday and has handled the shipping and training very well. Here are some photos.
Galloping over Keeneland's Polytrack under Darren Rogers
Bath Time _ Exercise rider Darren Rogers and groom, Melanie Minshull
Tu Endie Wei with Owner, Breeder Brereton Jones
10/03/11 - CITY WOLF MAN HANDLES THE DURHAM CUP FIELD. - It was City Wolf's 4th start at Woodbine and his 4th consecutive win. After breaking his maiden in his first start then winning two allowance races here, this well bred colt captured his first stakes victory as he debuted in stakes company. City Wolf is by Giant's Causeway out of Baby Zip. He is a half to Breeders' Cup Classic winner Ghostzapper, and a half to City Zip. Bred by Adena Springs, this colt is showing that his breeding can take him to the Stakes winners' circle. Ridden in all for victories by Emma Jane Wilson, she played a major role in getting City Wolf to settle in the early stage of the 1 1/8 race, and then charge down the stretch to win in 1:50. City Wolf earned a 96 beyer for his effort. What next?
Champion and 2008 horse of the year Fatal Bullet breezed 5/8 this morning at Woodbine in :58 under Emma Jane Wilson. Reade was very happy with his breeze. Fatal Bullet is scheduled to breeze once more before running in the Nearctic Stakes.
09/30/11 - 101 USES FOR A HORSE VAN - Mike & Vera owners of Curraghmore Farm took on the role of Supreme Caterers this morning. Preparing beef sliders, veggie wraps, fresh salads and lucious desserts to one and all of the Reade Baker team, Curraghmore Farm celebrated their horses' recent success with 3 wins and a 2nd, in allowance races since the middle of August. What a celebration! Not that Mike and Vera are unfamiliar with getting an early start to their day, this morning involved having a spotless van, picking up food from the caterer, grilling food on site, and creating a spectacular stage upon which to serve lunch to the barn. A very gracious and satisfied group of attending humans say thank you back. Here are some photos of the "catering van". It will be back in use for the equines by Saturday as Mike and Vera return to Woodbine with horses ready to work at the track.
---
09/23/11 - FIRST DAY OF FALL...LOT'S OF RACING, FALL FAIRS, & POULTRY SHOWS. - That's right, I said poultry shows. For anyone new to this site, you may have noticed the Poultry Tab. Check it out! Along with the photos of previous show winners, we have posted NEW photos of Reade washing birds in preparation for the Colwyn Show in Fergus, ON this weekend. Between Reade and his partner Frank Goodfellow, they will show more than 70 birds.
At the races... Moonshine Mullin is running on Saturday in the Ontario Derby at Woodbine. A promising 2 year old by Vibank named Foolish runs on Saturday as well. Reade continues to hold a solid second in the trainer standings at Woodbine with 39 winners, 21.3 win percentage, 6 Stakes wins, and over $2,019,423. in purse earnings.
Outside of Woodbine, we are runnning Bear Chocolated at Presque Isle tonight, and Tu Endi Wei is prepping for the (G1) Darley Alcibiades Stakes race, to be run at Keeneland on Friday October 7th.
---
08/24/11 - TU ENDIE WEI WINS THE ONTARIO DEBUTANT, MOONSHINE MULLIN BACK AT THE SPA. - Since out last news entry, Tu Endie Wei won her second career start in the Ontario Debutant Stakes at Woodbine and Moonshine Mullin returned to Saratoga. The Travers Stakes race is shaping up to be a dandy race. Some of the top three year olds in America are entered in Saturday's race. Moonshine Mullin is ready for the challenge. After arriving at the Spa on Monday, he jogged 2 miles yesterday and galloped this morning after the harrowing break. His afternoon routine includes a visit to the paddock every day. It rained in Saratoga Springs just after Moonshine Mullin made his way to the paddock with handlers Lisa Primier and Melanie Minshull. The race day forecast is calling for overcast skies, dry and hot. We have post 3 for the Travers, and the race will go off at 5:45pm.
Lisa and Melanie lead Moonshine Mullin to the track.
---
08/01/11 - MOONSHINE MULLIN IS SECOND BEST IN THE $500,000 JIM DANDY. - In his best effort todate, Moonshine Mullin earned a 99 beyer speed rating for placing in the Jim Dandy Stakes at Saratoga on Saturday. Woodbine regular rider, Emma Jayne Wilson made the trip to the "Spa" to guide this son of Albert the Great around the course. Owned by Dick Johnson's Viking Farm, the colt is getting better with each start he makes. Tracy and Carol Farmer, the owners of Albert the Great, made a visit to the paddock just before the race to check him out. The stallion owners declared that Moonshine Mullin "looks just like his daddy." We enjoyed hearing the story about when Albert the Great ran in the Jim Dandy. He resented being rated and finished last. Albert the Great then want on to place 2nd in the Traveres Stakes that year, being nosed out at the wire. Tracy Farmer also added that Moonshine Mullin will be able to run all day and he believes he will get better with every start. We agree!
The winner of the Jim Dandy, Stay Thirsty skipped the Haskell Stakes at Monmouth on Sunday, likely to meet up with easier competition. He earned a beyer of 106. In comparison Coil, the Haskell winner, earned a 96 beyer. Shackleford earned a 96 beyer for his 2nd place finish and the Belmont winner, Ruler On Ice, finished 3rd with a 92 beyer. ....interesting. The Traveres Stakes is on the agenda for all of the horses listed above.
07/27/11 - MOONSHINE MULLIN EYES SARATOGA PADDOCK. - It was a gorgeous day at the Spa today and the Victoria Park Stakes winner, Moonshine Mullin jogged on the main track this morning. In the third race, he went to the paddock to have a look around. He was very well behaved. Moonshine Mullin is by Albert the Great and owned by Dick Johnson's Viking Farms. He is in Saratoga for the Jim Dandy Stakes on Saturday July 30th. Shown below with groom Lisa Primier.
07/15/11 - MORE TWO YEAR OLDS BREEZE. - Photo below shows Brandyman (Aragorn - Oberon's Girl) breezing with stable mate Full Canvas (Mizzen Mast - Pleasant n Low) for Harlequin Ranches this morning. In the next photo, Jim and Susan Hill's Stormy Atlantic filly,named Eastern Atlantic is shown galloping on the main track prior to his 1/2 mile breeze from the gate.
Harlequin Ranches' Full Canvas (gray) and Brandyman (bay) start their breeze
Jim and Susan Hill's filly, Eastern Atlantic gallops under Alexander Martin
---
07/14/11 - THEY ARE AT THE GATE... War Afleet, the chestnut colt by Stevie Wonderboy and Wonderbear, the bay colt by Stevie Wonderboy, breezed 1/2 mile out of the gate on the training track at Woodbine this morning in :49.1, and :49.3 respectively. The two year olds are being prepped for their racing debut. The dam of Wonderbear is Quiet Bear, by Quiet American. Yes, there is a "Bear" connection...Quiet Bear raced in Northlands for Bear Stables Ltd. before being sold at auction in Kentucky as a broodmare prospect. Looking for a mare by Quiet American at the time, Brereton Jones purchased Quiet Bear to add to his broodmare band at Airdrie Stud. When Wonderbear runs he may have a big fan club cheering him on. Photo: Reade watches as the two year olds break from the gate.
07/13/11 - TWO YEAR OLDS GETTING READY - It is an exciting time of the year when the two year olds beging to breeze. In the photos below, Jim and Susan Hill's trio of Solid Appeal (Successful Appeal), Go Blue Or Go Home (Bluegrass Cat), and Bantee (Dixieland Band) breezed 3/8 this morning. The next photo shows Bear Stables Ltd.'s two year olds trio of Bear's Song (Teton Forest), Runnaway Bear (Congaree), and Bear's Queen (El Corredor), breezing on the dirt training track.
Two year olds, Solid Appeal, Go Blue Or Go Home, Bantee, starting their breeze.
Two year olds, Runnaway Bear, Bear's Queen , Bear's Song, breezing.
07/04/11 - BEAR IT'S TIME GETS UP IN TIME TO WIN $250,000 BISON CITY STAKES. - Bear Stables Ltd. had another stakes win yesterday in the Bison City Stakes with Bear It's Time. This was the 4th time Reade trained a winner of the Bison City Stakes. Previous winners include Syncronized, Touch Now, and Free Fee Lady. A courageous rally down the centre of the track under constant urging by Luis Contreas, Bear It's Time arrived at the finish line, just a head before Nigon Touch. Bear It's Time was purchased as a yearling for $6,000. The win gives Reade Baker his 5th stakes win and puts him on the top of the trainer's list at Woodbine, for number of stakes wins this year todate.
07/04/11 - TU ENDIE WEI WINS $150,000 MY DEAR STAKES IN CAREER DEBUT - The winning continues since the last update. Tu Endie Wei, the brilliant 2 year old half sister to champion Biofuel debuted in the My Dear Stakes on Saturday June 25th. She was superb. With a confident ride by Jim McAleney, Tu Endie Wei won the race by 4 1/2 lengths and earned a 91 beyer speed figure. Owned and bred by Brereton C. Jones, this Kentucky filly by Johar out of Ms Cornstalk, has a big future.
06/13/11 - MOONSHINE MULLIN WINS BY A NOSE IN THE VICTORIA PARK - Moonshine Mullin lead all the way in this 1 1/8 Victoria Park Stakes for a purse of $150,000. He was challenged by Alpha Bettor at the top of the stretch where jockey Emma Wilson asked Moonshine Mullin to find a little more and he did. In a time of 1:51 they crossed the finish line a nose the winner. The colt is out of Mullen Road and by Albert the Great. He was bred in KY by Dick Johnson and Dr. Russ Beran. Now owned by Dick Johnson's Viking Farm.
FATAL BULLET SHINES IN WINNER'S CIRCLE - Fatal Bullet pulled off an emotional win for owner Bear Stables and the Reade Baker racing stable team. Under a very patient ride by Luis Contreras, Fatal Bullet was rated back in 4th position while the pace was being set at :21:4, for the quarter, :44.1 for the half, and 5/8 in :56. When it was time to make a run, Fatal Bullet drew ahead by 1 1/2 lengths and then finished 2 1/4 lengths the best. Fatal Bullet ran a disappointing race in his last start at Presque Isle when he suffered some cuts to his hocks in the starting gate. Fatal Bullet showed great determination. That is the Fatal Bullet we remember. He earned a 91 beyer for the win.
05/25/11 - BEAR IT'S TIME WINS THE LADY ANGELA STAKES. - In what appeared to be an effortless ride for Luis Contreas, Bear It's Time kicked up her heels and dashed the 7 furlongs in 1:21.4. Bred by Gardiner Farms, this Philanthropist filly was purchased by Bear Stables Ltd. as a yearling. With the Canadian Oaks only 2 weeks away, the temptation will be to see if the filly is able to compete there as well. The Oaks is scheduled to be run on June 5th. The same card will feature the Queen's Plate trial. That is where stable mate Bear's Chill will make his next appearance at Woodbine.
05/15/11 - HUNTERS BAY WINS GOING SEVEN FURLONGS IN 1:21.9 , BEATING SIX RIVALS BY MORE THAN SIX LENGTHS. To view the race click on the link!
http://www.youtube.com/watch?feature=player_profilepage&v=1Fg3qPFuAvI
05/08/11 BEAR'S CHILL WINS THE QUEENSTON YESTERDAY IN SIZZLING TIME. - While the Derby buzz was happening at Churchill Downs, some of the Queen's Plate hopefuls met in the Queenston at Woodbine. In his second race at the distance this year, Bear's Chill dragged Emile Ramsammy to the lead and set the race winning fractions of 23.5, 22.1, 23.7 and 12.5 to win at 1:21.9 for the seven furlongs. Bear's Chill will try the Queen's Plate Trail in his next start, on the road the the Queen's Plate at the end of June. Bear's Chill earned a 97 beyer speed number for the victory, topping his previously high beyer speed number of 92 in his previous start.
05/07/11 - CITY WOLF TRACKS THE RAIL AND WINS. - Under a patient ride by Emma Wilson, this Giant's Causeway colt out of Baby Zip, broke his maiden at 7 furlongs at Woodbine. Owned and bred by Adena Springs and Stronach Stables, this colt is a half brother to Awesome Again. City Wolf earned a 79 beyer number for his win.
04/18/11 - BEAR'S CHILL HEATS UP A CHILLY DAY AT WOODBINE. - Bear Stables Ltd. saw a promising future in the three year old colt by Silver Nithi in 2009 at the CTHS Yearling sale for Canadian breds. After spending the winter training at Palm Meadows in Florida, Bear's Chill arrived at Woodbine to a chilly spring. He certainly did not show any sign of not liking the cooler temperatures in Ontario as he sizzled 7 furlongs in 1:21.3 under Emile Ramsammy. Bear's Chill is one of the biggest horses in the barn. He is a colt, and he is one step closer to being a strong contender in the 1 million dollar Queen's Plate Stakes race on Sunday June 26th, for 3 year olds, foaled in Canada.
04/08/11 - MAJOR BRAVO COMMANDS WIN AT GULFSTREAM - Adena Springs' bred Major Bravo wins at Gulfstream Park earning an 80 beyer speed figure. Major Bravo is a 2007 colt by Shamardal out of Saintliness by Holy Bull.
04/04/11 - BEAR CHOCOLATED, DEBUT WINNER AT WOODBINE - It was a sweet win yesterday for Bear Stables' Bear Chocolated. He ran 5/8 in :56.4 guided to victory by Emma J. Wilson. This was the first starter of the 2011 Woodbine season for the stable and the win earned Bear Chocolated an 82 beyer speed rating.
Look for more excitement next weekend at Woodbine as the racing stable gets ready for another promising year.
04/02/11 - BIOFUEL IS CROWNED HORSE OF THE YEAR - In 2009 Biofuel won a Sovereign Award for her outstanding juevenile year. In 2010 Biofuel raced undefeated at Woodbine in four stakes events, and placed twice in graded stakes at Belmont and Saratoga. Last night at the Sovereign Awards for 2010, Biofuel was named champion three year old filly and Horse of the Year. Bred and owned by Brereton Jones of Kentucky, Biofuel is by Stormin Fever, out of an unraced Indian Charlie mare named Ms Cornstalk. Biofuel was ridden by Sovereign Award winning jockey Eurico Da Silva in all of her six starts. Congratulations to all of the nominees and the winners of the 2010 Sovereign Awards.
Biofuel Team (l-r) Trainer Reade Baker, Jockey Eurico Da Silva, Owner /Breeder Brereton Jones, Assistant Trainer Leroy Trotman. ( not pictured, groom Melanie Minshull and exercise riders Martine Pare and Sheena Ryan)
We are at Woodbine today to begin the 2011 live racing meet. Look for us in the 2nd race today and the 2nd race on Sunday April 3rd.
.
03/27/11 - THUNDER BALL WINS AT GULFSTREAM PARK - It was a very close finish yesterday at Gulfstream Park in the second race. Thunder Ball, under constant urging by Wison, arrived at the finish line a nose ahead of the rest of the competitors. The 4 year old colt by Golden Missle was bred by Adena Springs, and raced under the colours of Stronach Stables.
03/04/11 - BEAR NOW'S HALF SISTER, FOALED IN KY. - The photo below is of the Bear Stables' newest addition. She is by Rock Hard Ten, out of Bear Now's dam, Controlled. Three days old in the photo, and already she looks tall and leggy. The filly was foaled at Serendipity Farm in KY.
---
03/01/2011 - FASIG-TIPTON HOLDS FIRST TWO YEAR OLDS IN TRAINING SALE. - The Palm Meadows Training Centre is a buzz with owners, trainers, bloodstock agents, veterinarians, and Fasig-Tipton staff. All have accended upon Palm Beach County to inspect horses being offered for sale. The breeze show on Monday was the typical under tack show, an opportunity to witness the prospective purchases in action. The auction will take place on Thursday March 3rd, at 11:00am. There are many good looking individuals in this premiere sale, which until now had always been held at Calder Race track. Grand White Tents and temporary viewing stands are in place. Palm Meadows is an ideal location for the sale.
Hip # 13 is being urged to complete the 1/8th of a mile timed workout fast enough to impress a potential buyer.
Temporary Viewing Stand at Trackside, draws a crowd before the Under Tack Show.
---
02/24/11 - CHAMPION FATAL BULLET BREEZES AT PALM MEADOWS - A picture of health, Fatal Bullet breezed 3/8 in :38 this morning under exercise rider Sheena Ryan.
02/22/11 - BEAR BULLET TOO HAS FILLY BY KENTUCKY BEAR - It looks like Bear Bullet Too has been cloned. The filly is by Kentucky Bear. Obviously the chestnut filly looks like her dam, and her sire. The colt foaled on Valenitines day is named Valentine Bear.
02/18/11 - KENTUCKY BEAR'S FIRST FOAL - It was a wonderful Valentine's Day gift for Bear Stables Ltd. Bear Dixiecat foaled a beautiful colt by Kentucky Bear on February 14th. How special! Bear Dixiecat (2004) is by Dixie Union out of Rare Cat. She ran under the the Bear Stables' colours and this is also her first foal. The fun will be in trying to find a clever Bear name for the colt. The colt was foaled at Curraghmore Farm in Ontario.
Photo of 2011 colt by Kentucky Bear out of Bear Dixiecat, courtesy of Curraghmore Farm
---
02/16/11 - EMMA WILSON FISHING IN FLORIDA - After maintaining contacts at Palm Meadows, Emma Wilson was spotted fishing off the coast of Palm Beach. Pictured below is Emma with a spinner shark. The shark was released after the photo shoot. Lots of eating fish went home with Emma along with the Captain's favourite recipe. Hmmm,... makes one wonder how the meal turned out.
---
02/11/11 - HUNTERS BAY RUNS SATURDAY - We run Hunters Bay in the 6th race on Saturday 02/12 and then we are back racing on Sunday with Celestina in the 2nd race and Rockin Heat in the 3rd race. In the meantime, the horses in Ontario are back in training at Woodbine. The stable area opened on February 9th for the season. April 2nd is first day of live thoroughbred racing at Woodbine.
01/30/2011 - GULFSTREAM PARK HOT PLACE TO BE ON SUNSHINE MILLIONS DAY. - The day could not be better for the crowd at Gulfstream Park yesterday for the Sunshine Millions. What a great day it was. After the races the place was abuzz with young people enjoying the night life at the various restaurants in the "village". The Florida weather is perfect for the outside dining and drinking with a little help from propane heaters all around the patios. Below is a photo of Stronach Stable's Hunters Bay. He breezed 5/8 from the gate under jockey Elvis Trijilo.
01/17/2011 - ZENYATTA GETS HER CROWN - OMAR WINS ECLIPSE, APPRENTICE JOCKEY. The crowd favourite for sure, the room errupted in cheer when Zenyatta was named Horse of the Year! The Eclipse Award for outstanding Apprentice Jockey went to Woodbine based Omar Moreno. Omar and fiance Beth, have been busy house hunting in Woodbridge.
01/16/2011 - BIOFUEL SHOWS OFF FOR BREEDER/OWNER - Biofuel thought the pony was just a little too close and restrictive on her morning jog today. Brereton Jones and his son Bret were at the rail watching Biofuel when all of a sudden she give a little kick at the stable pony, (retired thoroughbred gelding Afleet's Star).
In the photo below, Leroy and Sheena share a laugh over the moment.
Brereton Jones and his family are in south Florida to attend the Eclipse Awards on Monday evening at the beautiful and historic Fountainbleu Hotel in Miami Beach. Mr. Jones is nominated for the Eclipse Award for Outstanding Breeder of 2010.
Here is a sighting of Woodbine Apprentice rider, Caroline Duquet. Caroline is seen jogging a horse for us this morning at Palm Meadow's.
---
01/15/2011 - BEAR ON FIRE ENTERED AT GULFSTREAM PARK. - Our first starter of 2011 will take place on Thursday Jan. 20th at Gulfstream Park. In the photo below, Bear on Fire does an easy 5/8 breeze this morning at Palm Meadows as a prep and will run in a 5 1/2 furlong maiden allowance race.(Race 7).
01/05/2011 - HAPPY NEW YEAR! - Now that the new year has arrived, our Canadian Champion 2year old filly, Biofuel arrives at Palm Meadows. Biofuel is the leading candidate for the top three year old filly honours at the 2010 Sovereign Awards in Canada after a spectacular racing year. Biofuel had been turned out at her home, Aidrie Stud Farm in Kentucky, since mid November to just relax and be a thoroughbred filly. Biofuel arrived yesterday in great shape. Today was her first day under tack. Naturally Biofuel arrived with her wooly winter coat. She will be clipped this morning.
Driving home from Palm Meadows, I saw this Woodstork on Haegan Ranch Road attempting to get his breakfast down. Now that is good fishing.
Canada's 2008 Champion Horse of the Year, Fatal Bullet may be interested in doing more than jog, but for now, he jogs for exercise rider Sheena Ryan
---
12/30/10 ONE DAY LEFT IN THE YEAR 2010 - Great day in Southern Florida. High 75 F.
A Tri Colored Heron poses for a photo.
A Few Reminders to Everyone.
All thoroughbreds turn One Year Older on January 1st. The yearlings turning Two Years Old will need to be named by February 1st in order to avoid a naming fee of $50.00 each. Also the $500.00 fee for EARLY nomination to the Canadian Triple Crown of Races are due by February 1st. Three year old Colts and Fillies of 2011 that were foaled in Canada are eligible. If that is not something that you can decide at this time, your horses may be supplemented at a later date. If you would like some help with the process, please give us a call or an email.
For all American Owners that own a nice Canadian Foaled Three Year Old, please fee free to contact Reade to see if your horse will fit into the program. Reade's cell number is 416 518-1234.
The Canadian Triple Crown races include The Queen's Plate Stakes race at the distance of One Mile and Two Furlongs, for a purse of One Million Dollars.!! The second leg is the Prince of Wales Stakes at One Mile and Three- Sixteenths, for a purse of $500,000. The third leg is the Breeders' Stakes going One Mile and Four Furlongs over the E.P. Taylor Turf for a purse of $500,000.
This is one of the most Lucrative Stakes Events in the World. The triple crown races are restricted to horses that are foaled in Canada and that are three years old as of 2011. Note: there were only 2,550 foals born in all of Canada in 2008.
---
12/25/10 - MERRY CHRISTMAS!! - We are signing in from Palm Meadows in Florida. All of the horses shipped well. We are getting ready for the 2011 racing season and look forward to another great year. Assistant Leroy Trotman is enjoying a well earned vacation with his family in Barbados before returning to Palm Meadows January 3rd. Horses at Woodbine will resume training on about February 15th. Bear's Chill is feeling great and gives a little kick for the camera.
12/05/10 - THREE MORE TWO YEAR OLD WINNERS YESTERDAY - The first race kicked off with a chilling victory by Bear Stables' 2year old colt named Bear's Chill. The colt is by Artie Schiller out of Silver Nithi. Emile Ramsamy was the pilot. Bear's Chill was purchased at the CTHS select yearlings sale in 2009. This looks like a Plate horse!
In the third race, Curraghmore Farm made it into the winners' circle with their 2 year old homebred named Westdale. Another precocious son of Bold Executive, Westdale is out of Riches and Honour, by Matter of Honor. Emma Wilson was aboard for the win.
The third victory was accomplished by Fast Yankee for Brereton Jones. A homebred by Yankee Gentleman. The horse that ran second is named Oh Canada!
The victories have been added to the score board, in the stats below. Three more runners today!
---
12/04/10 - TWO MORE DAYS AT WOODBINE - We are packing up and getting ready to head south. We have 17 horses at the Palm Meadows Training Centre in Palm Beach County already. We will send another 9 on Monday after the races end here on Sunday. We have room for a few more horses if you would like to send one. Keep an eye on the Gulfstream Park races as the meet begins the first week of January 2011. Some of the horses that will winter in Florida include Fatal Bullet, Biofuel, Moonshine Mullin, Rockin Heat, and Village Drive.
Village Drive, owned by Roger and Shannon Fortier's Jus Luk Stable, will compete in Sunday's Valadictory Stakes race. It is the final stakes event of the Woodbine thoroughbred stakes schedule. The race is a fan favourite and is always carded for the last day of the meet. Village Drive will like the 1 3/4 miles distance and he will be ridden by Omar Moreno.
This has been another GREAT year for Reade Baker and the team.
The Score Board as of 04/12/10, looks like this;
Starts: 391 Wins: 71 Place: 73 Show: 56
Earnings: Over $3,815,000
Stakes Wins: 10
Win Percentage: 18%
In the Money Percentage: 51%
The success of the stable is largely dependant upon our client's who continue to support the barn with good horses, our staff who extend kindness and patience, towards the horses, and the jockeys' who get the horses to the finish line first. Thanks to all of you for your support! We look forward to seeing the yearlings develop over the winter and look forward to training the two year olds in the new year.
We will keep posting stories and photos over the winter on this site so please visit us.
---
11/13/10- HORSEY NEWS - Watch for Athenamore in the Glorious Song Stakes on Sunday Nov. 14th. The season is just 3 weeks away from coming to and end at Woodbine. December 5th is the final live thoroughbred race day. We will continue to train and race in Florida. We have 8 horses at the Palm Meadows Training Centre already and will have about 21 in training during the winter months. We are looking towards the winter training program and to the Florida sunshine. Biofuel will join the stable in Florida in December to prepare for the 2011 campaign. Fatal Bullet had a super work last week and will also head to Florida with us. More news coming, and the plan is to write more often.
Eurico Da Silva and his wife Claudia will head to New York once Woodbine closes, where Eurico will race at the Big A, Aqueduct.
11/13/10 - ROYAL WINTER FAIR POULTRY SHOW - This is where Reade could be spotted on the 9th and 10th this month. Together with partner Frank Goodfellow, the Champion Standard Poultry, Reserve Champion Standard and the Champion Waterfowl awards were won by their birds. Photo below, shows the Champion Black Langsham, Champion Call Duck and the Reserve Champion Light Brown Leghorn. Today there was another poultry show in Columbus Ohio. The Royal Champions showed well and won their divisions.
10/11/10 - BEAR'S PEAK REACHES NEW HIGH - Winner of the $125,000 Bull Page Stakes race at Woodbine today. Bear's Peak is a 2 year old colt by Peaks and Valleys out of Royal Ascot, by Ascot Knight. A maiden going into todays race, Bear's Peak was 5th in his first lifetime start. The race was quick going 6 furlongs in 1:09.9 under jockey Patrick Husbands. The strong chestnut was purchased by Bear Stables Ltd at the CTHS yearling sale in 2009. Stable mate Quintana ran 3rd in the race for the partnership of Augi Onesi and RBRS Inc. Bear's Peak is being pointed towards the Frost King Stakes on November 3rd.
09/26/10 - NO BETTER FUEL THAN BIOFUEL - In a solid performance under regular rider Eurico Da Silva, champion Biofuel won the $250,000 Selene Stakes race at Woodbine today. This was the 4th stakes win in as many starts at Woodbine this year. Biofuel was the second win on the day for the combination of trainer Reade Baker and owner Brereton Jones, taking the first race of the day with Fast Yankee in a maiden allowance event. On Saturday, the Stronach Stable's 2 year old filly by Touch Gold, named Athenamore won at first asking in her maiden allowance start. The stable has chalked up 51 wins this year and $2,682,559 in earnings.
09/20/10 - HORSES RUNNING WELL. - The stable had seconditis this past week. Adreamandaprayer won for Harlequin Ranch at Woodbine on the 15th and then we had 5 runners finish 2nd!!! Including Rockin Heat in the $250,000 Summer Stakes at Woodbine on Saturday. Biofuel breezed 5/8 in :59 on the training track yesterday in preperation for her next start which will be The Selene Stakes at Woodbine on September 26th or the Cotillion Stakes race at Philadelphia on October 2nd. Professional Photographer Dan Lim was at Woodbine one morning and took the following photo of one of our horses being bathed.
© Copyright 2010 Dan Lim Photography Inc.
---
09/12/10 - BEAR'S FUTURE WINS $150,000 SWYNFORD. - The trip to the OBS two year olds in training sale proved a good decision. That is where Bear Stable's, Danny Dion purchased Bear's Future for $57,000.00. The 2 year old son of Rockport Harbour coasted to a 3 1/2 length win today. The win is the second in as many starts for the colt and the second time Bear Stables have won the Swynford. The first horse to win the race for Bear Stables was Bear Character in 2004. Danny was at Woodbine to walk Bear's Future into the winners' circle. The sun came out just as the horses were loading into the gate for the start of the Swynford. The Grey Stakes race at 1 1/16 is where Bear's Future is being pointed towards for his next start. The Breeders' Cup being the long range objective.
09/09/10 - MESA CIELO BEATS SAND COVE TO WIN $125,000 ELGIN STAKES - Just as the temperatures in Toronto are cooling down, the horses are heating things up. In this past week, we have been 7 times lucky, as we have been to the winner's circle that many times. Seven is also the number of stakes wins we have so far this year as well.
Village Drive was the first horse to win in September for Roger and Shannon Fortier's Jus Luk Stable. It was a tough spot for Village Drive up against the heavily favoured Essence Hit Man. Village Drive dropped his head and kept running until he crossed the finish line by a nose over Forgetthestorm.
Mr. Turnabout scored a one length win on Sunday September 5th for Harlequin Ranches under Rui Pimental at the "Fort". At Woodbine on Sunday, Curraghmore Farm's 4 year old gelding Darlington took the 1 1/16 event by three lengths under regular rider, Emile Ramsammy.
Mesa Cielo started the Yearling Sales Stakes day off in winning fashion by capturing the Elgin Stakes race by 2 1/2 lengths guided by jockey Jim McAleney. Mesa Cielo is by Sky Mesa out of stakes winning mare, Miss Crissy. He earned a beyer speed rating of 92 for the win. Mesa Cielo is owned by Richard Bonnycastle's Cavendish Investing and races under Harlequin Ranches.
Delray Beach made it into the winner's circle at the "Fort" on Monday, to score as the 5th winner this month. She is by Harlan's Holiday out of Matter of Law.
On Wednesday, September 8th, Fantastic Cousin romped a field of 13 starters to capture an easy 7 furlong race on the turf. Owned by Jim and Sue Hill, Fantastic Cousin was ridden by jockey Real Simard, of Alberta. Fitting connections as the owners live in Calgary. A leading rider at the Fort Erie oval, it was nice to see Real Simard ride his first winner at Woodbine. More Miss Crissy ran third in the same race. She was closing at the end of the race and will go longer on the turf in her next attempt. More Miss Crissy is the three year old half sister to Mesa Cielo. The final race last night and the barn's 7th win this month was won by The Bear Stable's three year old first time starter, Bears Goal. Ridden by Emile Ramsammy, Bears Goal held on to win over a late charging entry mate, Bears Redneck.
---
09/02/2010 - THE GIRL WITH THE HORSEHEAD TATTOO. - For the past four years, mostly summers, Tanya Minshull has worked in our stable as a horse walker. Until then, the only connection Tanya had with horses was knowing her sister, Melanie. Melanie works in our stable and is best known for being the groom of Champion filly, Biofuel. Having an "in" with the stable, Melanie recommended Tanya for a job as a horse walker. Tanya was at University and could use the summer job.
This was Tanya's first time ever being around horses, and admits that she was terrified. One of the first horses that she walked was a horse named Kentucky Bear. Tanya recalls that day, .."he was so big and so beautiful, but gentle". It was love at first sight. Tanya says that Kentucky Bear is "the best horse ever!"
For this reason, Tanya took a photo of Kentucky Bear to a tattoo artist and had the picture tattooed on the calf of her leg!!!! Now is that not love? Tanya paid $450.00 for the service.
Tanya is attending Bishop's University in Sherbrook Quebec this fall to begin a four year program in Physcology. We truely wish her the best for the school year and look forward to working with Tanya again next summer.
---
09/01/10 - SALES, STAKES AND STATS - It has been over one month since our last posting and alot has happened since then. Stakes winners, Biofuel and Free Fee Lady scored in that category in August. Biofuel ran 3rd in the Mother Goose at Belmont and went onto run 2nd in the American Coaching Club Stakes race at Saratoga. Back at Woodbine on August 22nd, a superb effort was needed for Biofuel in the Belle Mahone Stakes race for three year olds and up. Biofuel won in the very last jump to the wire and Reade was delightful with her victory. Biofuel earned a 93 beyer spped rating for the win. That was her best beyer todate on the polytrack. Biofuel did run a 93 in the Mother Goose at Belmont on the dirt surface.
Biofuel will be pointed towards either the $750,000 Fitz Dixon Cotillion Stakes race at Philadelphia or the Mazzarine Stakes race at Woodbine.
Following Free Fee Lady's Bison City Stakes upset, Free Fee Lady won the $250,000 Wonder Where Stakes race on August 1st, on the E.P.Taylor, Turf Course at Woodbine. Free Fee Lady will have the rest of the racing off from training.
Stable Earnings 25% higher than last year at this date. As of the end of August, 2010, the purse earnings to-date, have seen an increase over the previous year`s earnings. In addition to the higher earnings, the stable has scored more wins this year over last year. Last year at this date, we had 29 wins and this year, we have 39 wins to date. That positions Reade in second place on the trainer standings at Woodbine.
YEARLING SALES WEEK - This weekend will be a busy one for anyone interested in obtaining a well bred yearling filly or colt at the Yearlings Sale. The sale begins on Tuesday September 7th, at the Woodbine Sales Pavillion. Reade is interested in purchasing two year olds to form a partnership. Anyone interested in getting involved in the sport please contact Reade on his cell phone (905) 518-1234.
07/11/10 - FREE FEE LADY - WINS BISON CITY AS 15-1 LONGSHOT. - It was a 4 horse field running for a purse of $250,000 in today's Bison City Stakes race for 3 year old fillies foaled in Canada. Free Fee Lady was in 3rd position along the backstretch under jockey Emma Wilson and drew clear at the top of the stretch passing the 1-10 favourite Embur's Song. Once clear, Free Fee Lady opened up to win the 1 1/16 in 1:44 flat. The rain came and lightning threatened the winner's circle forcing everyone to take cover and forfit the traditional post race interview. The filly was purchased for Harlequin Ranches by Reade Baker in the Alberta sale. Free Fee Lady is the 3rd Bison City Stakes winner for Reade Baker, having won the race twice in the past. The race was held at Fort Erie until recently. Reade's prior winner's of the Bison City include Syncronized and Touch Now.
---
06/25/10 - BIOFUEL GREETS BELMONT - Upon arriving at Blemont Park on Tuesday, Biofuel settled into the New York frame of mind with ease. The track is very deep here however Reade thinks "if she doesn't mind the deep track, I think she will win." This will be the first start on dirt for Biofuel who has raced over the Woodbine polytrack and the Santa Anita track which she liked very much. Biofuel schooled in the paddock on Wednesday and Thursday in preparation for Saturday's Mother Goose Stakes race. Woodbine's leading rider Eurico Da Silva will be in the saddle.
06/06/10 - IT'S TIME BEAR - THRILLS IN THE BOLD RUCKUS STAKES ON TURF. - Sunday was a very good day at the "office" for the Reade Baker Racing Stable. Village Drive kicked off the day with a gutsy win over the Sam Son Farm's heavy favourite, Dark Cloud Dancer. Jockey Omar Moreno sent the 3 year old colt by Congaree out of Symphonic Lady to the lead and then never looked back. The 1 1/8 was contested in 1:52. Village Drive is owned by Roger and Shannon Fortier's Jus Luk Stables. Jus Luk Stables watched their horses go 3 for 3 on Sunday. Loveyouallthetime won an allowance race with a 7 1/2 length victory at Fort Erie, and Vezeau Beach won the finale at Woodbine.
The biggest race of the day, The Bold Ruckus Stakes race was captured by a prompt, It's Time Bear. Emile Ramsammy took the lead in the race on a yielding turf and set slow fractions for the first quarter. The field never caught up with him. It's Time Bear is a 3 year old by Peaks and Valleys and is owned by....you guessed right, The Bear Stable.
---
05/24/10 - BIOFUEL DOMINATES IN THE $150,000 LA LORGNETTE STAKES - A very relaxed Biofuel came out of the gate well and was happy to be taken back by jockey Eurico Da Silva. The early fractions of :50 for the half mile set by the front runners, was unusually slow. Biofuel was well off the leaders coming into the stretch and had to make up alot of ground. When Eurico asked her for her run, she gave everything to win by one length. This is Biofuel's second start and second stakes victory as well in 2010. Congratulations to winning owner / breeder, Brereton Jones and his family.
Eurico Da Silva, Brereton Jones and Reade Baker in the paddock prior to the La Lorgnette Stakes.
---
05/16/10 - BEAR'S CONDUCTOR FINE TUNED. Saturday was the first day of turf racing at Woodbine and it was wonderful to watch. Bear's Conductor liked the turf very much and after a challenging trip, Da Silva was able to strike the right note with the "Conductor" and arrived at the finish line first.
Biofuel above, breezed 5/8 in :59.4 under Eurico Da Silva this morning.
Jim and Susan Hill's 3 year old named Fantastic Cousin, breezed 5/8 in 1:01.1 today under Emma Wilson.
Bear's Hard Ten easily breezes 5/8 in 1:01.1 with exercise rider Darren Rogers aboard.
05/15/10 - STAKES ACTION - Here is a list of some up coming stakes contenders. Today we run the very quick Fastin Bear in the Queenston Stakes. Harlequin Ranches' Dash It Dreamer will run in the Ballade Stakes on Saturday May 22nd, owner Brereton Jones's Biofuel will run in the La Lorgnette Stakes race on Sunday May 23rd, Bear's Hard Ten will run in the Marine Stakes on Saturday May 29th and Dashing Tom will run in the Bold Ruckus Stakes for Jim & Susan Hill on Sunday, June 6th.
In 2005 Gold Strike won the Canadian Oaks and a Sovereign Award for outstanding three year old filly. Today her first foal named Lode Lady was on the track. She is pictured below. Although Lode Lady is a chestnut, she looks just like her mom Gold Strike. Lode Lady is by Posse and was bred by Dick Bonnycastle's Harlequin Ranch.
04/12/10 - BIOFUEL IS BACK ON TRACK - Canada's Champion Two Year Old Filly, Biofuel won the $150,000 Star Shoot Stakes yesterday at Woodbine under Eurico Da Silva. The race was the first of the season for Biofuel who was sharp and happy to race to the lead when asked. The race went in 1:10 and Biofuel earned an 81 beyer speed rating for her effort. Reade is pointing Biofuel towards the La Lorgnette Stakes going 1 1/16 at Woodbine, on Sunday May 23rd.
04/09/10 - FASTIN BEAR - Wins our first race of the 2010 Woodbine Season. In what was the warmest opening weekend of weather at Woodbine on record, we began the season with a second place finish by Harlequin Ranch's Adreamandaprayer, in the first race on Friday April 2nd. It was on Saturday when we made it down to the winners' circle for the victory celebration after The Bear Stable's Fastin Bear proved that he was indeed the Fastest.
We are in for an exciting weekend of racing as the stable sends out Gov. Brereton Jones's Biofuel in the Star Shoot Stakes race (6th race) on Saturday. Later on the card, Clearopportunity will run in the 8th race for the partnership of Mileo and Frank Monte, and John Pierson of Ontario. On Sunday, we send out Jim & Susan Hill's 4 year old colt, Monty's Best in the Jacque Cartier Stakes.
03/27/10 - FIJI BOY GETS SLOPPY TRACK AND SCORES SECOND WIN AT GULFSTREAM
Fiji Boy ( inside horse) loves the sloppy track as he wins on March 26th under jockey Lescano
---
03/24/10 - NINE DAYS UNTIL WOODBINE OPENS - We are counting down the days until Woodbine opens for the 2010 race meeting on Friday April 2nd.(Good Friday) Hopefully.
In the meantime, Reade joined a gang while in Delray Beach this winter. The Black Onion Boyz. The name came as a result of an event which took place at a Lobster BBQ hosted by Delray Beach neighbour Paul Condon. The story goes, "Paul, what is in the foil on the BBQ?"... "Oh just leave it alone, everything is under control." After 4 hours, again the inquiry about the foil package on the BBQ. At that point the package was taken off the grill and opened to display the very black onions which would have tasted pretty good about 3 hours earlier. Well days later, the name Black Onion Boyz was attached to the 7 guys in attendance. Reade is wearing a T-shirt designed by Paul. (The horse is Monty's Best.)
---
03/13/2010 - BEAR TOUGH GUY BREEZES - Bear Tough Guy breezed 3/8 in :38.1 this morning under Eurico Da Silva at Palm Meadows. It is the first breeze since winning the $250,000 Grey Stakes race at Woodbine on October 12th, 2009. Bear Tough Guy is being pointed towards the Marine Stakes race going 1 1/16 at Woodbine on Saturday May 29th.
03/09/2010 - BIOFUEL BREEZES - Biofuel breezes 3/8 in :38 under jockey Eurico Da Silva this morning at Palm Meadows. Eurico told Biofuel's owner, Brereton Jones, that Biofuel "had fun and was very happy."
03/01/2010 - Stronach Stable's 3 year old filly by Ghost Zapper, named DONNA LIONA breezed 3/8 under Ryan Pacheco.
Stronach Stable's 3year old Canadian Bred filly named VELVET MOSS is shown below during her morning gallop at Palm Meadows. Velvet Moss won her maiden allowance debut in 2009 and is a 2010 Canadian Oaks hopeful.
---
02/06/2010 - While live racing at Woodbine resumes on Friday April 2nd, in just one week, on February 13th, the doors to the stable area at Woodbine will swing open for the season. We have 40 horses ready to ship in on that weekend. (Leroy and Reade flipped a coin to determine who will go to Woodbine, and guess who lost the toss). Leroy is getting ready to head back north next week. In the meantime, here are a couple of photos of Leroy at work, and at play. Our next starter at Gulfstream Park will be Tangled Passion on Thursday February 11th.
Leroy on Afleet's Star, the stable pony watches a set at Palm Meadows.
Leroy with his catch of King Fish, Baracuda and Bonita's at the Boynton Beach Dock.
---
02/03/10 - BEAR TOUGH GUY arrives at Palm Meadows after a break at Ocala Stud Farm. He is bigger and more impressive looking than ever.
MONTY'S BEST is shown above enjoying his morning gallop.
Sovereign Award winner BIOFUEL hams it up for the camera during her morning exercise at Palm Meadows.
01/30/10 - BIOFUEL CHAMPION TWO YEAR OLD FILLY IN CANADA - Congratulations to Brereton Jones, his family, the team at Airdrie Stud, and the Reade Baker team on Biofuel's Sovereign Award for being named Champion Two Year Old in Canada. It was the first year that the voters selected two fillies to share the top honour. Negligee was the filly who tied with Biofuel.
Biofuel won the first start of her career, in an allowance race at Woodbine. After a start on the turf and a 4th place in the Ontario Debutante, Biofuel went on to win the grade 3 Mazarine Stakes going 1 1/16 before finishing 4th in the Breeders' Cup filly race at Santa Anita. Biofuel was bumped by Negligee during the stretch run of the Breeders' Cup at Santa Anita. Biofuel showed great courage to compose herself and continue the stretch run to finish 1 1/2 lengths off the winner. Biofuel is at Palm Meadows getting ready for her 2010 campaign.
---
01/17/10 - FIJI BOY WINS FIRST RACE AT GULFSTREAM PARK - The race track was sloppy but Fiji Boy was much the best, winning his maiden race by 9 1/4 lengths. This was the first winner for the barn this year in 3 starts. Fiji Boy is owned by Rosemont Farm in Kentucky.
01/06/2010 - HAPPY NEW YEAR - Our first runner of the year will be Andalusian in the 5th race at Gulfstream Park on Friday January 8th. Andalusian is an 8 year old gleding claimed on the last day of Woodbine.
12/10/09 - PALM MEADOWS TRAINEES ARRIVE - It has been a while since our last posting. By now everyone has read the Breeders' Cup results and our disappointments. The good news is that both Biofuel and Fatal Bullet are doing great. Both flew directly to Kentucky on December 8th, for a little break. In the meantime, we continued to win races at Woodbine in November and ended the season with a Stakes victory with a two year old named Bear 's Hard Ten. He won the 1 1/16 Display Stakes in a dominating fashion. He is owned by Bear Stables Ltd, and was ridden by Eurico Da Silva. The racing season at Woodbine is over for 2009 and Reade was 5th on the leading trainer standings going into the last day. Six horses have arrived at Palm Meadows and we are expecting another 14 horses by next week. Please check back from time to time and we'll have some photos up for those of you who are interested in following our stable. It is a great day in Florida, sunny and temperatures in the 80's. Opening day at Gulfstream Park is Sunday January 3rd, 2010.
11/05/09 - BIOFUEL ARRIVES IN GREAT SHAPE - Biofuel arrived at Santa Anita on Monday morning in great shape. She jogged backwards on the training track today, and had a nice bath. She had her coat shaved fine, and she will be comfortable in the high 80 degree temperatures of California afternoons.
Biofuel walks to the track for the first time. Biofuel, after her "haircut" and groom Melanie Minshull
The draw for the Breeders' Cup races took place today and Biofuel drew post position 12 out of a field of 12. Fatal Bullet drew post position 3 out of 9 entries. Reade was happy with both post positions.
Fatal Bullet jogged around the main track once with the pony and then galloped around once.
---
10/31/09 - HAPPY HALLOWEEN - FATAL BULLET WORKED 5/8 IN :59.2. It was an easy workout for Fatal Bullet again this morning. He has been schooling to the paddock everyday. Here is a photo of him in the paddock with groom Wendy Dadswell. BIOFUEL is scheduled to fly to California on Monday Nov. 2nd. Remember to turn your clocks back 1 hour tonight before you go to sleep.
10/26/09 - IS THAT A ROOSTER?
10/25/09 - FATAL BULLET PREPS FOR BREEDERS' CUP SPRINT - Fatal Bullet walked this morning with exercise rider Martine Pare, after a 5/8 workout in :58.4 at Santa Anita yesterday.
"It was like he was walking, and he cooled out like he never left the barn." said Reade when asked if he was happy with the work. Pre-entries for the Breeders' Cup races will be taken tomorrow. The BC races will be run on November 6 & 7. Fatal Bullet will be entered in the Sprint, on Nov.7th, and Biofuel, the Mazarine winner will be entered in the Jeuvenile Fillies race on Nov. 6th.
It was a foggy morning in Southern California as horses waited at the gap to enter the race track.
---
10/12/09 - BEAR TOUGH GUY WINS $250,000 GREY STAKES RACE - On a beautiful sunny Thanksgiving Sunday, there was alot to be thankful for. For the third consecutive day, we found ourselves in the winners' circle celebrating a graded stakes victory. Bear Tough Guy captured the Grey Stakes for owner Bear Stables Ltd. under Eurico Da Silva. This was only the second start for Bear Tough Guy, winning his debut at 1 mile on the turf in September. Bear Stables paid $27,000 for Bear Tough Guy at the Ocala two year olds in training sale. That is the same amount Bear Stables paid for their champion Fatal Bullet, as a two year old.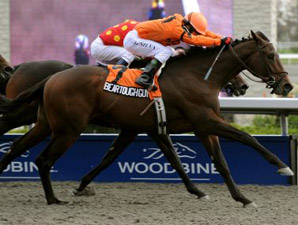 10/11/09 - BIOFUEL WINS $250,000 MAZARINE STAKES RACE AT WOODBINE. - In a thrilling victory run down the stretch, Biofuel overtook the field on the turn winning the 1 1/16 event in 1:44.2. Biofuel was ridden by Eurico Da Silva, for owner and breeder Brereton C. Jones of Kentucky. The daughter of Stormin Fever earned a beyer speed rating of 83 for the win. Reade and Eurico teamed up to win two stakes races in as many days. Today, keep an eye on that team as they run Bear Tough Guy in the Grey Stakes at Woodbine.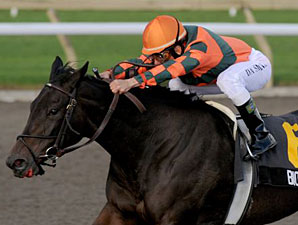 10/09/09 - FATAL BULLET WINS THE $250,000 PHOENIX STAKES - Wow! Fatal Bullet wins the Phoenix Stakes under Eurico Da Silva in 1:09 flat. Breeders' Cup Sprint here we come!!! The win earned Fatal Bullet an automatic entry into the Breeders' Cup Sprint on Nov. 7th., as The Phoenix Stakes race was a "win and you're in" event.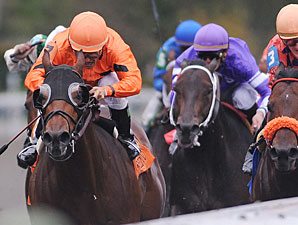 10/09/09 - FATAL BULLET RUNS IN THE PHOENIX STAKES RACE AT KEENELAND - On the road to the Breeders' Cup Sprint which takes place at Santa Anita in Caliifornia on November 7th, Fatal Bullet runs in the 8th race today. The post time is 5:45 pm.
09/09/09 - EIGHT YEARLINGS PURCHASED LAST NIGHT - It was a buyers market at the CTHS's select sale of Canadian foaled yearlings last night. Reade purchased 2 yearling colts to be partnered. There are 2 - 25% shares available in each colt. The colts are hip 44 and hip 110. Please have a look and let us know if you are interested. Reade also purchased 5 yearlings on behalf of Bear Stables Ltd. and a filly by Peaks and Valleys, for Jim and Susan Hill.
09/07/09 - TWO YEAR OLD - FASTIN BEAR WINS $125,000 SIMCOE STAKES TODAY. Appropriately named, Fastin Bear is precocious like his mother Regal n Bold. Fastin Bear won the 7 furlong race in 1:23.4 after opening up on the field of 13 by 5 1/2 lengths. Eurico Da Silva was the rider and Bear Stables is the owner.
09/07/09 - SINGER MATT DUSK MAKES APPEARANCE AT CLIENT APPRECIATION PARTY. It was another beautiful evening for a party on Monday September 7th. We held our 7th annual affair in the garden. John Liddle arranged the band for the evening, Yorkshire Pudding did the food and Rodney's Oyster house served fresh shucked oysters throughout the night. The band sounded sooo good that Matt Dusk heard the music as he walked past our house and decided to join in with the band to do a few numbers. It was great to be able to meet Matt.
Matt is welcome to sing at our events anytime!
---
08/28/09 - CATERED AFFAIR - Vera Simpson and Michael Dube of Curraghmore Farm decided that they would serve lunch to the Reade Baker Team today, to celebrate their 3 victories in the past two weeks. Being very creative, Vera and Mike cleaned out their horse van, decorated it with flowers, tables and linens, then served salads, wraps and fresh cookies and fruit to almost 40 people. Everyone appreciated the great food and beautiful fashion it was served. Thanks Mike and Vera!
.
Vera serving Clifford and Nicholas from her converted horse van.
08/27/09 - CANADIAN YEARLING SALES - SEPTEMBER 08, 2009 - If you are interested in owning a share in a Canadian Bred, Ontario Sired Yearling, this may be the opportunity for you to do so. Reade will be active at the sale this year looking specificly for Ontario Sired Yearlings. He is interested in retaining 25% share of any purchase he makes. Anyone interested in 25% or more, should contact us to discuss details. The racing program for horses by Ontario Sires is a very lucrative one. With more horses from the US being stabled at Woodbine, the competition has increased in all races with the exception of the ones restricted to horses by Ontario Sires. This is the market we plan to target this year.
08/25/09 - SARATOGA NOT TO THE LIKING OF FATAL BULLET - As much as we like Saratoga, Fatal Bullet just did not like the surface whatsoever. He came out of the Vanderbilt in good shape and will return to the poly surface.
08/06/09 - FATAL BULLET AT THE SPA - Fatal Bullet arrived in Saratoga Springs on Tuesday afternoon. He is entered to run in Sunday's Vanderbilt Stakes race. On Wednesday, exercise rider Martine Pare jogged backwards around the racetrack and walked through the paddock for a look around. This morning, Fatal Bullet was happy to do a little more, and Reade had Martine jog once around and then gallop once around the track. Fatal Bullet ate up last night, and is doing super. He seems to enjoy the surroundings. Following his exercise tomorrow morning, Fatal Bullet will walk to the receiving barn and get familiar with the sites and sounds of more of the visiting fans who arrive on track as early as 7:00am.
Here are some photos taken this morning.
07/19/09 - FATAL BULLET WINS FIRST START FOR 2009. - The 2008 Canadian Horse of the Year, Fatal Bullet won the $150,000 Bold Venture Stakes race at Woodbine today, making his first start since finishing 2nd in the Breeeders Cup Sprint last October. This is the 2nd consecutive win in the Bold Venture Stakes for Fatal Bullet, having won the race in 2008. Under his regular rider Eurico DaSilva, Fatal Bullet coasted to the lead, setting fractions of :22.58, :44.55, 1:08.37 and finishing in 1:14.9. Looking forward, the next start for Fatal Bullet will be in the Vanderbilt Stakes on Sunday, August 9th at Saratoga.
A very happy jockey, horse, groom and owner combination. Wendy Dadswell leads Fatal Bullet to the winners circle.
---
07/12/09 - BEAR'S LIGHTNING NOSES OUT MIA D'COUGAR TO WIN. It was the most amazing battle, and Bear's Lightning, (by Maria's Mon) under a strong ride by Tyler Pizarro, fought for the win.
Earlier today Fatal Bullet breezed 5/8 in :59 under exercise rider Darren Rogers. Pictured below, it is easy to see the power in Fatal Bullet. He runs in the Bold Venture Stakes on July 19th.
07/11/29 - MONTY'S BEST & FASTIN BEAR WIN. Since the last posting, the barn has run 5 winners including Milwaukee Chief in an allowance event for the Stronach Stables, and Hot Proposition for Jus Luk Stables at Fort Erie. On Sunday July 5th, Fastin Bear won at first asking to make him the second two year old to win this season. Fastin Bear is by Forest Camp out of Regal n Bold. Reade trained Regal n Bold when she raced. On the same day, Monty's Best was the best in an allowance race for owners Jim and Susan Hill. Both Fastin Bear and Monty's Best were ridden to victory by Eurico DaSilva. After the race, three of our exercise riders stopped Eurico to pose for a photo. Left to right are Ian Jaghai, Eurico DaSilva, Sergio Lescano and Darren Rogers. Well done!
06/29/09 - TWO MORE WINNERS ON THE WEEKEND. The 2 year old filly named Rhythm of the Sea won her maiden race on Saturday for Jim & Susan Hill going 4 1/2 furlongs under Eurico Da Silva. On Sunday, Upmarket Girl won for owner Harlequin Ranches. High Mist ran 3rd in the $250,000 Bison City Stakes. Our stable has 12 wins to-date with 18 seconds and 23 thirds at Woodbine. We anticipate a good July with many horses in the barn conditioning well. More 2 year olds are arriving now, and it is very exciting to see them in training.
06/07/09 - HIGH MIST SCRATCHED FROM THE OAKS - In a most unfortunate accident yesterday, High Mist was walking off the track after her morning gallop when a horse bolted and ran into the filly. The impact caused her rider to be thrown off and High Mist ran off the track towards our barn. Along the way, she slid and fell on the road causing a few minor cuts to her body. They are small and did not require stitching however we could not treat her with any antiinflamatory medications due to the race today. She jogged around the track this morning and is going well, however, there is some swelling in her upper leg which could travel lower by later today. As a result we scratched her from the Oaks today. Of course everyone is disappointed, but she is expected to be perfect in a few days.
06/04/09 - BEAR'S PROSPECTOR WINS ON THE TURF
Bear's Prospector is being led into the winner's circle by his groom Jenson Moore. Eurico DaSilva rode Bear's Prospector to win the 7 furlong allowance race on the turf in 1:20.3.
---
05/30/09 - CANADA'S 2008 - HORSE OF THE YEAR, FATAL BULLET BREEZES - Fatal Bullet breezed 3/8 this morning at Woodbine under jockey Eurico DaSilva. Fatal Bullet will make his 2009 debut in the Bold Venture Stakes race at Woodbine on July 19th.
---
05/20/09 - INTERSKY AMERICA BREEZES 5/8 AT WOODBINE FOR BILL MURPHY OF LANCASHIRE ENGLAND.
Intersky America is a three year old colt by Maria's Mon out of Jeano. He was bred in KY, and has been training in Ocala, FL this winter. Bill Murphy of The Intersky Group, England, sent his colt to race at Woodbine this season.
---
04/26/09 - BEARCATT WINS THE $150,000 WOODSTOCK STAKES - In one of the most impressive races so far this year, Bearcatt under jockey Emma Wilson won the Woodstock Stakes in 1:09.1. He earned a 92 beyer speed rating for the effort. The three year old was purchased as a yearling in 2007 at the July Fasig-Tipton sale in Kentucky. He is owned by Bear Stables, Ltd. It is the first Stakes victory for the owner and trainer this year. Reade continues to lead the trainer standing at Woodbine with 6 wins and more than $333,000 in purse earnings for April.

04/18/09 - RING OF GREATNESS AND BEAR'S PROSPECTOR BOTH WIN TODAY! - It was a perfect day for the team as Ring of Greatness won the 4th race and stable mate Bear's Prospector won the 5th race. Ring of Greatness under Jim McAleney ran 5 1/2 furlongs in 1:03. He is owned by Shannon and Roger Fortier's Jus Luk Stable. Jockey Jim McAleney told Reade that he had a lot of horse and that he felt that the horse could have gone even faster. Ring of Greatness went fast enough to beat his closest rival by 4 1/2 lengths. Very Impressive!

Bear's Prospector was equally impressive in winning the 5th race for Bear Stables Ltd. After three starts at Gulfstream since January, this talented colt needed to settle for the races. In his first start, he threw the jockey off in the walking ring and then went on to be second in what shaped up to be a good race. After some schooling to the paddock, he ran 2 more times. Both starts were not trouble free and he returned to Woodbine as a maiden. Bear's Prospector is a Kentucky bred by Silver Deputy out of Glory and Grace. He has always been an assertive colt. To settle him for the races this time, our assistant trainer Leroy Trotman and groom Jenson Moore schooled Bear's Prospector to the paddock every race day. This was a very time consuming process and it obviously paid off. Bear's Prospector was a perfectly focused horse in the paddock, on his toes in the walking ring, he warmed up stong, and ran a great race.

04/17/09 - SHARPAY WINS AND PAYS $29.40. - Sharpay won the 5th race on Friday for Calmar Stables and Ranch of Calgary. Sharpay is a three year old filly by Alphabet Soup out of Wawasee. She was a yearling purchase at Keeneland 2007. Sharpay was ridden by Chad Beckon. This was the first winner Chad has ridden for Reade Baker. Chad is the son of Danny Beckon who was a leading rider at Woodbine in the 80's.
04/12/09 - Judith's Wild Rush breezes 5/8 today under Jim McAleney, in preparation for the Jacques Cartier Stakes race on April 25th. He won the race in 2006.
04/12/09 - BEAR LAHAINA WINS - Dany Dion of the Bear Stable was at Woodbine on Sunday when his filly Bear Lahaina had her picture taken in the winners' circle. Bear Lahaina is a 4 year old, KY bred filly by Silver Deputy out of Lahaina Lass. The purse for the 5 1/2 furlong race was $82,000.00 with $42,780 going to the owner.
04/11/09 - BRAVE INDY WINS OPENER - Jim and Susan Hill's Brave Indy won at Woodbine on Saturday 04/11. It was the first win at Woodbine for Reade in 2009.
03/30/09 - JUDITHS WILD RUSH Returns to Woodbine. - Harvey and Judith Tenenbaum have decided to bring the 2004 and 2005 Canadian Sprint Champion Judiths Wild Rush, back to Woobine for his 2009 campaign. Reade is thrilled to have him back in training and looks forward to pointing him towards the Jacques Cartier stakes race on April 25th..... What a rush!!!
03/28/09 - ENDOSCOPE SHOWS THROAT ACTION DURING WORKOUTS - Dr. Gary Priest was at the barn this morning to perform a dynamic respiratory scope on a horse. Dr. Priest fitted the rider with a back pack which contains the electronic recording devise and battery power. The DR endoscope is a tube with electrical cables and LEDs. Inserted into the horse's throat via the nostral, it is attached to the bridle and then into the recording devise on the rider's back, to capture video images of the throat in digital format.The video images can then be transferred to a computer, saved to files and viewed is slow or fast mode to diagnose throat function.
Dr. Gary Priest fits the DR Endoscope in place.
The Endoscope is attached to the recording devise on the rider's back.
Before the procedure, rider - Jim McAleney said that he wasn't sure if the horse would accept having the endoscope. After the procedure he said the horse accepted the endoscope as well as he does a tongue tie.
---
03/17/09 - FATAL BULLET - Swimming at Ocala Stud in Florida
03/08/09 - HIGH MIST BREEZES - Jockey Emma J. Wilson breezed High Mist 1/2 in :48.4 today at Palm Meadows. High Mist is being pointed towards a race on opening day at Woodbine, April 4th.
---
02/27/09 - BEAR'S ROCKET - Ready for the Tampa Bay Derby - Bear's Rocket is heading to the Tampa Bay Derby at Tampa Bay on Saturday March 14th. Reade and Bear Stables' owner decided not to go to the Foutain of Youth this weekend at Gulfstream Park due to the fact that the race has been cut back in distance this year to a 1 mile race. He galloped this morning at Palm Meadows under Cassie Garcea.
---
02/24/09 - RECKLESS CAT BREEZES - Jim and Susan Hill's gelding Reckless Cat (by Cat's at Home out of Love Whisper), breezes 5/8 under Cassie Garcea this morning
.
---
02/17/09 - TWO YEAR OLDS GETTING READY IN OCALA - We were at Ocala Stud to watch the two year olds this morning. It was a beautiful morning and the horses were well behaved. Every youngster walked through the starting gate on the way to the track before galloping.
---
02/07/09 - JANIS FOLLOWING HER 5K RUN FOR MIRACLES IN DELRAY BEACH - Janis is posing with her "gold" medal for 1st place in her age group. Her 5K time was :26.2. Cheers!
02/15/09 - HORSES DOING WELL AT PALM MEADOWS - WOODBINE TRAINING UNDERWAY. - We have started up the Woodbine training program with horses arriving on February 9th. Assistant trainer Leroy Trotman along with our regular team of grooms, exercise riders, and walkers, are getting horses ready for opening day of the Thoroughbred racing season on April 4th. In the meantime, the Florida division of horses and staff continue to train at Palm Meadows.
Elle Diva - owned by Susan Hill, smiles for the camera.
Bear's Rocket - Breezing at Palm Meadows under Jim McAleney
02/01/2009 - HOLY BULL!! - Bear's Rocket runs second in the Grade 3, Holy Bull Stakes at Gulfstream Park. Reade can smell the faint scent of roses in the air. Bear's Prospector ran second, beaten less than a length in the first race for him this year. The colt was purchased by Dany Dion's Bear Stables as a yearling at the July Fasig-Tipton sale in Kentucky for $350,000. He was the sale's topper. Bear's Rocket earned a 95 beyer for his effort. The winner, Saratoga Sinner had just won his maiden race earlier in the month defeating Bear's Prospector. Bear's Prospector is another colt owned by Bear Stables. The two horses have one thing in common, they have both run 2nd to Saratoga Sinner. The similarities end there. Bear's Rocket is very calm, and Bear's Prospector is a tough, feistee colt. He reared up in the paddock trowing his jockey off, in his first start at Gulfstream Park. He schooled to the paddock earlier in the day yesterday.

Bear's Rocket


Bear's Prospector
01/15/09 - FATAL BULLET WORLD'S BEST 3 Y O SPRINTER ON DIRT & SYNTHETIC SURFACES. - The World Thoroughbred Racehorse Ratings, (the ratings committee is comprised of representaives from Britain, Germany, Ireland, France, Italy, the USA, Canada, Japan, Hong Kong, UAE, Australia and South Africa.) has ranked Fatal Bullet with a rating of 119. That places him tops in the world for a 3 year old sprinter on the dirt and synthetic surfaces. The World Thoroughbred Racehorse Ratings committee includes horses running in all jurisdictions except South America.
01/11/09 - NOTICE TO ALL STAFF - For the information of all staff, please note that the final stakes / bonus cheques were mailed to you today Friday January 9th, along with your T-4 form for tax purposes. Please keep an eye out for them.
01/10/09 - Reade with assistant trainer Leroy Trotman, pose for the camera in the paddock at Gulfstream Park.
01/10/09 - Janis was off running in her first 5K race. The race was called the River Run, held at the Spanish River Church on Yamato Rd. in Boca Raton. She finished 3rd in her age group, with a time of 27:27 and a pace of 8.50. There were 400 participants, some ran some walked.